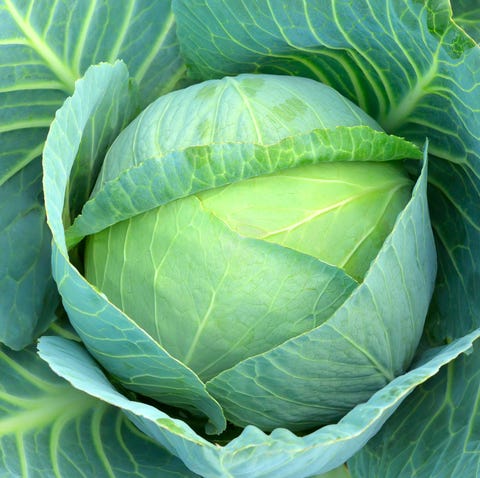 Cabbage adds terrific background flavor to soups and stews. However, it can shine on its' own! Cabbage is inexpensive, extremely low in calories (6 calories per leaf!) and is naturally fat-free, cholesterol-free and gluten-free. Cabbage has trace amounts of protein and carbohydrates, and just one leaf has 14% of your body's daily Vitamin C requirements. Cabbage is part of the cruciferous family of veggies (including broccoli, turnips, kale, cauliflower and more!) which are a SUPER food group, that help clear our bodies of toxins in the lungs and liver. Additionally, some studies have shown that eating cruciferous veggies inhibits many types of cancer.  At the Teaching Kitchen, we love all varieties of cabbage chopped or finely shredded in salads, sautéed, roasted, or even steamed. Here's a recipe for a homemade dressing that is a snap to make in your blender. It pairs perfectly with shredded cabbage and additional ingredients of your choosing, to make a crunchy, sweet and tangy- you'll want to come back for seconds-salad!
Cabbage Salad with Sweet and Tangy Salad Dressing
Homemade Sweet and Tangy Dressing Ingredients:
1 c. peeled and sliced fresh peaches (frozen and thawed is ok to sub. Mangoes are also yummy !)
½ c. freshly squeezed orange juice (cut an orange in half and squeeze!)
1-2 tsp. honey
¼ c. rice wine vinegar (or 1 Tbsp. apple cider vinegar plus more to taste)
¼ tsp. fresh or ground ginger
½ tsp. salt
Freshly cracked black pepper, to taste
Method:
Mix all in a blender.
Puree until smooth.
Refrigerate until ready to use.
To make a delicious SALAD use some of these ingredients: (Amounts as desired)
Thinly shredded red or green cabbage (or pre-shredded coleslaw mix)
Baby spinach
Red Pepper Slices
Optional- Fresh Herbs such as cilantro or parsley
Cucumber
Leaf Lettuce
Chopped nuts, plain or lightly salted
To find out more about cutting, coring, storing, and cooking cabbage see here.
Big 8 Allergen Info: Does not contain any