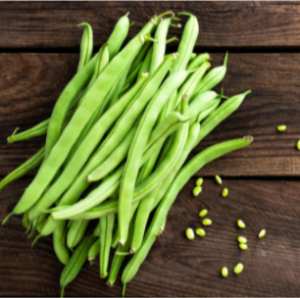 Many people tell us that green beans are their favorite vegetable! At the Teaching Kitchen, we love them for their versatility and delicious tender texture and flavor. If you have a garden, try growing some beans; they're easy and plentiful plants. Locally grown green beans are widely available at a Farmer's Market throughout the summer. Additionally, green beans are a crop grown throughout the world and are readily available year-round in most U.S. grocery stores. Fresh beans are widely considered best, for flavor and crisp-tender texture when cooked, but frozen green beans are just as nutritious. Canned beans are high in sodium so choose frozen or fresh beans when possible. Green beans are a source of both fiber and protein, but really- we eat them because we love them!
More tips and ideas here.
Yummy Green Beans
Yield: ~ 3-4 portions
Ingredients:
12-16 oz. fresh green beans, trimmed (or 1 -12 oz. bag frozen green beans)
½ large onion, sliced (or omit and substitute 1 tsp. onion powder)
2 Tbsp. garlic, minced/finely chopped (or omit and substitute 1 tsp. garlic powder)
as desired-a few shakes of red pepper flakes or fresh hot chili peppers, to taste (finely chopped)
1 Tbsp. olive oil or butter, as desired
2 Tbsp. Tamari/soy sauce
freshly ground black pepper to taste
GARNISH- a few Tbsp. Sesame seeds or chopped peanuts
Method:
Add the fresh green beans to a pot of boiling water. Cook until tender to the bite, but still green; about 5 minutes. Drain. (or Microwave frozen green beans, as per package directions. Drain off any water.)
Meanwhile- heat olive oil or butter in a skillet. Add sliced onion, garlic, and chili peppers and sauté for a few minutes. (if using garlic/onion powders skip this step and proceed to the next step.)
Add drained green beans into the hot oil. Add in the remaining ingredients, except the garnish. Mix all. Turn off the heat and top with sesame seeds or chopped nuts.
The Big 8 Food Allergen Info: Soy + Nuts