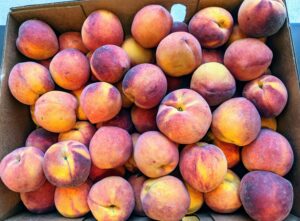 Peaches are in season in the U.S. from mid-July through the beginning of September. Peaches are so beloved by Americans that the peach is the State Fruit of two states (GA + SC); the peach tree is the State Tree of AL; DE claims the Peach Blossom as its State Flower and peach pie as its State Pie! For health benefits and nutritional info of peaches see here. If you're interested in reading more about buying, storing, and cooking with peaches see here.
Here's a recipe for a quick, no-cook, flavorful meal addition to jazz up any plain grilled meats, seafood or tofu. Or, take it to a pitch-in for a twist on the regular 'chips and salsa'.
Fresh Peach Salsa
Yield: ~ 3c.
Ingredients:
2 cups diced peaches (you may substitute frozen, thawed peaches-~ 1 1/2 c. diced)
½ each cucumber, finely chopped
¼- ½ each, red pepper, finely chopped
1-2 jalapenos-as desired, seeded and minced
¼ cup cilantro, chopped
Optional- 1 small avocado, diced
½ tsp. salt
Juice of 1 lime
Method:
In a large bowl, combine the peaches, cucumber, onion, peppers, and herbs. Squeeze in the lime juice. Gently toss. Taste for seasonings; adjust as desired.
Chill and serve or refrigerate until ready to serve.
The Big 8 Food Allergen Info: None