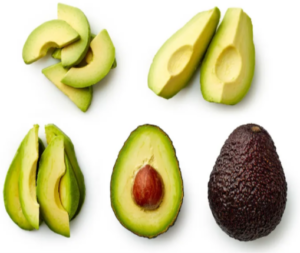 Guacamole
Yield: ~6 servings
Ingredients:
Juice of ½ lime (or 1 lime, as desired)
½ medium red or white sweet onion, finely chopped
4 medium ripe avocados pitted
2 garlic cloves pressed or minced (or garlic powder to taste)
1 teaspoon salt
½ medium red or white sweet onion, chopped
½ cup fresh cilantro, mostly leaves, chopped
1 jalapeño, seeded and finely chopped
Method:
Mix the finely chopped onion with the lime juice to marinate while you prepare the other ingredients. This helps to cut the onion's sharp flavor.
With a spoon, scoop the avocado flesh into a medium-sized mixing bowl. Add the garlic and salt. Mash the ingredients together with a large fork or potato masher until the avocado is nice and creamy.
Add the onion, chopped cilantro and jalapeño to the bowl and mix well. Taste for seasoning and adjust as desired.
To serve, transfer the guacamole to a serving bowl. with some additional chopped cilantro. Serve immediately.
 Variations:  (Get creative; stir in anything that sounds good!)
Guac with Greens: Add in a few leaves of kale or a handful of spinach. Chop VERY finely by hand or food processor before adding into the guac.
Guac with Pomegranate: Add ~1 cup Pomegranate arils (seeds) or arils from 1 fruit.
The Big 8 Food Allergen Info: Does Not Contain Any