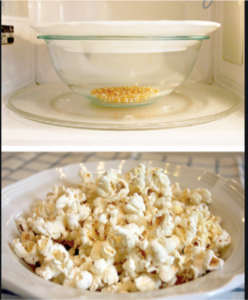 Did you know that Indiana is the second largest producer of popcorn in the U.S.? Here's another trivia-fact: there's a town (about 56 miles south west of Cummins downtown Columbus, IN campus) named Popcorn! That must be a fun address to have.
Popcorn is an inexpensive and healthful snack that is simple to make yourself. (Kroger brand popcorn kernels are $1.99 for 21 servings; less than 10 cents per serving! July 2020) Here is a recipe for making your own freshly popped popcorn without any added fat or artificial flavorings. For more nutrition info., recipes and popcorn trivia- see here.
DIY Microwave Popcorn
Servings: 1-2
Ingredients:
raw popcorn kernels, 1/4 – 1/2 cup
Method:
1 glass or microwave-safe deep bowl, such as a salad bowl or mixing bowl that will fit into your microwave
1 microwave-safe dinner plate, to make a lid for the bowl
Pour the popcorn kernels into the bowl. They should cover the bottom, without being too heaped-up. Place the plate on top of the bowl and cook in a microwave for 2-4.5 minutes. The total time will depend on your microwave strength and size bowl/amt. of corn that you're popping. Start with about 3 mins. and add or subtract time as needed, so that when you listen, you can hear the corn popping quickly and regularly. When it starts to slow down, stop the cooking to prevent the popped corn from burning.
Eat plain or top lightly with seasoning and a spritz of olive oil spray as desired.
The Big 8 Food Allergens: Does Not Contain Any