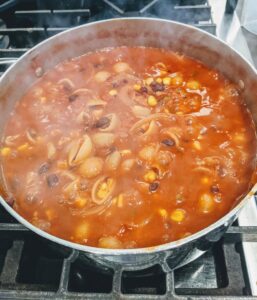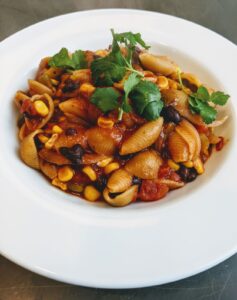 This recipe is practically a no knife/no cutting board recipe if you choose (use frozen diced onion + frozen diced green pepper)! Using pantry items (including frozen and canned veggies + beans) plus some fresh herbs and toppings to finish at the end, you'll be so proud of yourself for making this economical and delicious one-pot meal. This recipe is easily adapted to your taste buds: see variations at the bottom for adding meat; add chili flake or a diced jalapeno for a bit of spice.
Serves: 5-6
Ingredients:
1-16 oz. box of Shells, Rotini or Elbow Macaroni pasta
½-1 onion, thinly sliced (depending on size, or 3/4 c. frozen diced onion)
1 bell pepper, trimmed-seeded+ thinly sliced (or 1 c. frozen diced pepper)
¼ c. Taco seasoning (low salt, as desired)
1 tsp. garlic powder (or a few cloves of fresh garlic, minced)
1-15 oz. can tomato puree + 1-15 oz. can petite diced tomatoes
1-12 oz. bag of frozen corn
1 qt. / 4 c. vegetable or chicken broth (homemade or low-salt, as desired)
2-15 oz. can black beans, drained and rinsed well
Garnishes: Optional but yummy!! Fresh chopped cilantro-fresh diced avocado-low fat or dairy free cheese shreds
Method:
Put all ingredients in a soup pot. It might look like there is not enough liquid. The veggies will cook down and release liquid. Stir to combine and put the lid on.
Bring up to a boil over med-high heat.
Turn heat down to medium. Stir occasionally and simmer/low boil for about 12-15 minutes until the pasta is tender.
Check occasionally while stirring, to make sure that the liquid hasn't cooked off.(Don't burn it!) Add a little bit-maybe half cup- of water at a time, if it is getting dry and pasta is not cooked.
There should be a small amount of liquid remaining in the bottom. Stir + serve hot, topped with garnishes as desired.
Variations: Brown 1# ground lean meat and add into the pot at Step 1. OR- 1 bag of frozen meatless 'beef' crumbles, add in towards the end of cooking.
The recipe may be halved.
The Big 8 Food Allergen Info: Gluten